The RUFORUM Competitive Grants System (CGS) is the main flagship of RUFORUM's interventions in the universities – supporting the training of agricultural post-graduate students. The RUFORUM CGS has awarded over 433 grants between 2004 and 2022, all with recognized research outputs.
The RUFORUM CGS is designed to closely link universities and post-graduate students to rural communities and to promote inclusive and sustainable development.  It responds to the following challenges - inadequate access to research funding, poor problem identification and inadequate research methods. Quality and relevant research is central to effective post-graduate degree training, especially in terms of educating the next generation of agricultural scientists in the region.  
RUFORUM's mission is to strengthen the capacities of universities to foster innovations responsive to the demands of small-holder farmers through the training of high quality researchers, the output of impact-oriented research, and the maintenance of collaborative working relations among researchers, farmers, national agricultural research institutions, and governments.
The CGS program is structured around a peer review process, integration of post-graduate students into the research projects, project monitoring, and support to students in research methods and writing skills. Through this process, RUFORUM provides support to Principal Investigators.
The CGS Mechanisms
The RUFORUM CGS is made up of the following different granting mechanisms:
Graduate Research Grants (GRGs) are designed to train 2 MSc students with 4 undergraduate interns. A GRG budget varies according to the specific Call between US$60,000 to 80,000.
Post Doctoral Fellowships (PDFs) are similar to the GRG but target one PhD student to be trained, 2 MSc students and a cohort undergraduate students supported as research assistants. A PDF budget is US$60,000.
Community Action Research Programme (CARP) are designed to establish platforms to link with communities and other stakeholders in action research with 1 PhD and 2 MSc  students being trained with 8 undergraduate research assistants. A CARP budget  will normally be between US$350,000 to $450,000.
RUFORUM Entrepreneurship

Challenge Programme (RECAP) is an accelerator program that is institutionalized at an applicant member university to facilitate student's innovation and business incubation. Through the RECAP, agricultural universities will have the opportunity to establish Agribusiness incubation Centers (AIC) as part of operationalizing the Entrepreneurship Challenge Program to foster the further development of innovative business ideas leading to products and/or services on national to regional scale. The budget is US$50,000.
Field Attachment Programme Awards (FAPA) support post-graduate students to intern with prospective employers and work with the clients of their research on uptake, after handing in their theses. A FAPA grant is usually US$4,000 to 8,000 depending on the length and requirements of the specific Call.
Doctoral Grants (DGs) provide a range of scholarships and grants to both MSc and PhD agricultural students. Qualifying prospective students may apply for Doctoral Regional Scholarships (DRS), Doctoral Regional Research Grants (DRRG) or Doctoral Finalization Support (DFS). Doctoral Grants vary in amounts and they depend on the donors that we work with.
Our Granting Process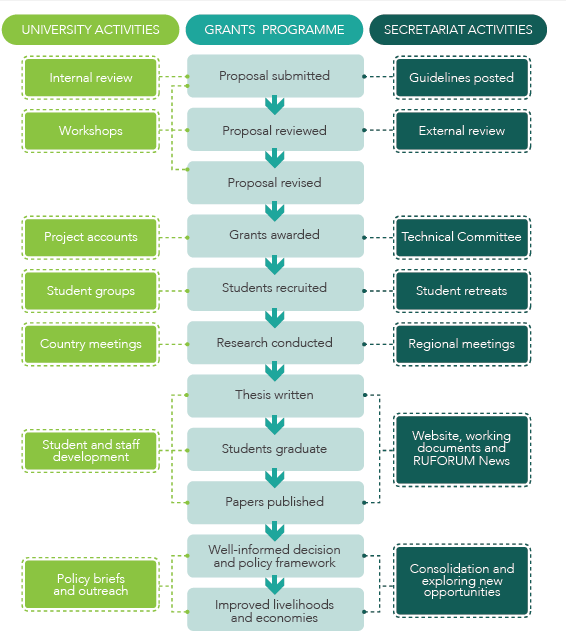 Please download the Grants Manual and read more about the different RUFORUM CGS mechanisms.